9 REASON TO USE ONLY HIGH QUALITY HEARING AID BATTERIES IN YOUR PRECIOUS HEARING AIDS.
Years ago, the hearing aid industry standardized batteries. Today, batteries come in four sizes, all with a corresponding (and standardized) colored tab. From smallest to biggest. How many days batteries will last in your Hearing Aids will depend on type and power of hearing aids, battery size, if you are using streaming and how many hours a day are you using your Hearing Aids.
The Hearing Solution Group branded 'POWER ONE' hearing aid batteries can be used for any brand or style of hearing aids.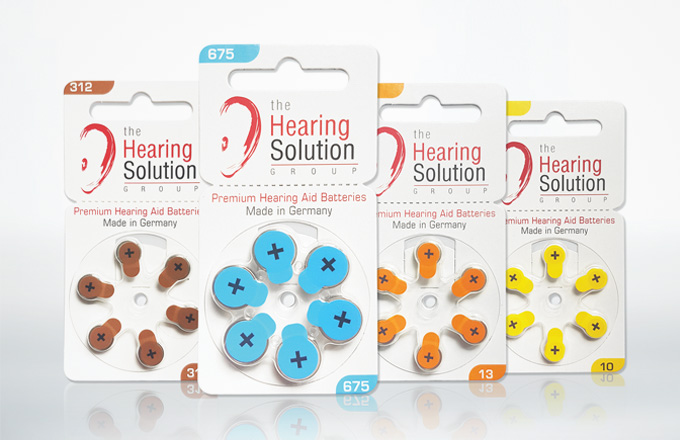 QUALITY MADE IN GERMANY
Power one batteries are manufactured in Ellwangen, Germany, at the world's most up-to-date and biggest production site for hearing aid batteries. They are produced on fully automated high-speed lines. The high degree of automation of this process means that very few manual operations are required – the risk of error is therefore minimal.

OPTIMUM SERVICE LIFE AND PERFORMANCE
A long service life with a guaranteed high cell voltage thanks to a patented cathode technology makes frequent battery changing redundant and promises the best sound.

EXTREME RELIABILITY
Like in Singapore high temperature and high power one provides additional safety even under extreme environmental conditions thanks to its three-fold sealing design and patented PTFE film technology. PTFE is a very special type of plastics: its also serves as a non-stick coating on pans (as 'Teflon ®') and as a breathable membrane in clothes (as "Gore-Tex® ).

PERFECT CORROSION PROTECTION
Corrosion caused by leaking or over stressed batteries is one of the main causes of major hearing aid repairs. The stainless steel housing of our hearing aid batteries provides high-level stability and safe protection against corrosion.

100% TESTED
Each individual cell is tested for its electrical and mechanical characteristics in accordance with its specifications.

LONG SHELF LIFE
A highly developed film seal for every cell guarantees that the battery does not dry out or drain prematurely. This long shelf life has been demonstrated in long-term tests even under extreme climatic conditions.

PREPARED FOR NEW TECHNOLOGIES
Developments in hearing aids have made great progress in recent years. It is not just that the appliances are becoming more and more high-tech while packed into an increasingly smaller space. They are also keeping pace wih the technology of modern life. Thus, hearing aid manufacturers are now enabling their hearing systems to be connected to communicatin and entertainment electronics, such as the TV or telephone. This connection can be by cable or wireless, via a so-called bluetooth interface.
Batteries from power one are optimally prepared for these new technologies with their very high level of voltage

AWARD-WINNING PACKAGING
"Comfort Tab": The extra-long tab on every battery can be gripped and removed with ease.
"Comfort Pack": The double-walled pack with integrated rotary dispenser safely protects the power one batteries. This is so secure that any accidental removal of the tabs is prevented.
"Power Seal": The quality seal guarantees that all the cells are untouched in their original packaging and have been factory tested. A resealable system allows the pack to be closed again securely whenever a battery is removed.

QUICK ACTIVATION
A system that has been optimized for extremely low internal resistance will enable the battery to activate within seconds once the tab has been removed.