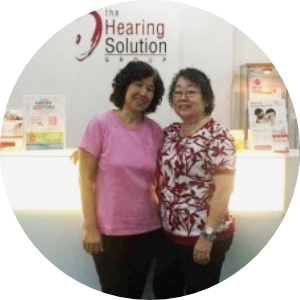 Ng Tee Eng
Klang Branch
我很感谢这公司产品帮我听觉有进步,
助听器帮我听得清楚,声量好,助听器戴了也很舒服。
我是在MediaFocus月刊的广告找到Hearing Solution (Klang) 的,谢谢 Roslyn叶女士。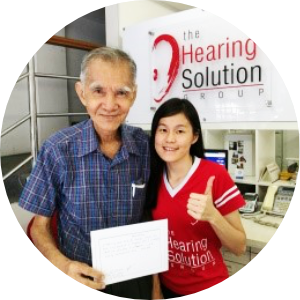 Ho Swee Ek
KL Branch
I took my dad here for tuning.
Clover has been very patience & helpful.
She's a delight staff and friendly & attentive.
We'd highly recommend this. Thanks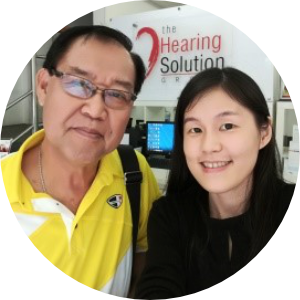 Simon Ng
KL Branch
It has been more than a year since I started to use hearing aids. I must say I am a very satisfied user of NuEar hearing aids as recommended by Ms Clover Lim.
Ms Lim is very professional, patience and frank in her consultancy service. She gladly accepts any follow up service which is to me a great selling point for The Hearing Solution Group. I wish them all the best!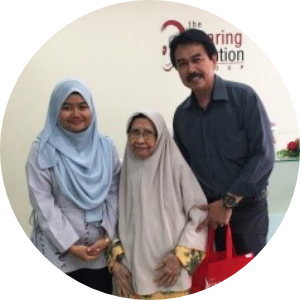 Zabedah Omar
Kuantan Branch
Kini saya boleh mendengar dengan lebih baik dan dapat bersembang dengan ahli keluarga seperti dahulu. Terima Kasih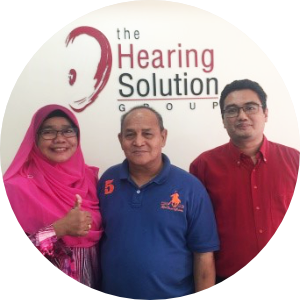 Rahana Mahamud
Kuantan Branch
Saya amat berterima kasih dengan perkhidmatan dan layanan yang terbaik.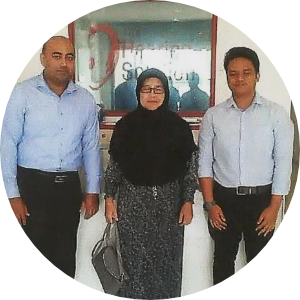 Habibah Binti Yahya
Ipoh Branch
Mempunyai perkhidmatan yang baik, layanan yang mesra dan berbudi Bahasa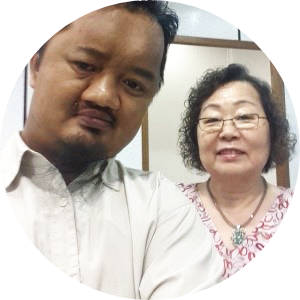 Abd Kadir Bin Abdul Rahman
Klang Branch
Thanks very much for the hearing aid provide as new life for me.
As I am having hearing loss since I am young.
I visit Hospital Klang in the year of 2014 & refer me to The Hearing Solution Co.
And The Hearing Solution Co (Klang Branch) provides good service & fitting HA for me.
I can hear better now. I appreciated the staff of Klang Branch provide friendly service.
Thanks.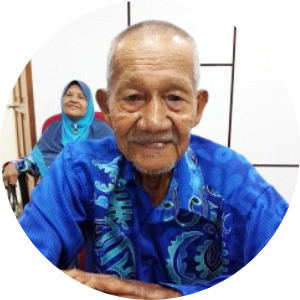 Mohamed Yunus Mat Asip
Klang Branch
Since the use of hearing aids is fun and easy,
Good quality, satisfying, clear and easy to understand
Good job.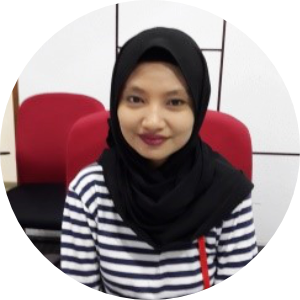 Norashikin Binti Noorazman
Klang Branch
I am very satisfied with the services provided by The Hearing Solution Co at Klang Branch.
I can hear better with the Hearing Aid.
Thanks.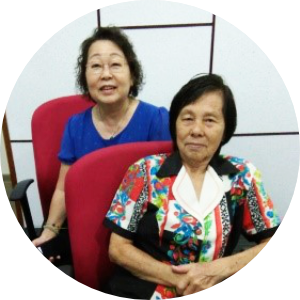 Hong Ah Moi
Klang Branch
用这个产品会带给我方便与舒服
产品品质很好,助听器戴着也舒服
让我听得清楚和明白,只是要定时清洗
总而言之非常棒!
Hearing Solution (Klang) - Roslyn叶女士的服务非常好!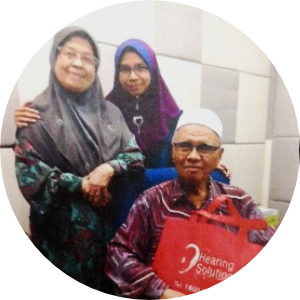 Harun @ Kamaruddin bin Hussin
KL Branch
Sangat gembira dapat alat bantu pendengaran baru.
Terima Kasih Nur Atikah bt Azmi
Khidmat anda sangat memuaskan
Perwatakan sangat peramah.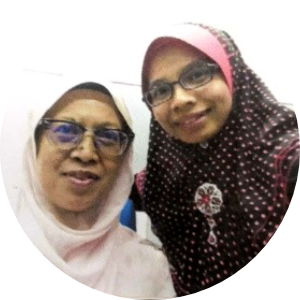 Fuziah Zainal Abidin
KL Branch
Diharap alat bantu pendengaran ini dapat membantu saya terutama untuk berkuliah, mengaji dan sebagainya
Terima Kasih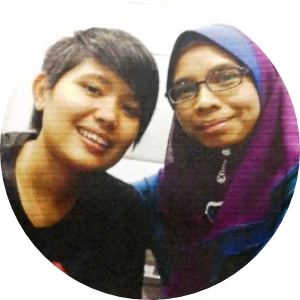 Nur Aqilah Binti Abdul Aziz
KL Branch
Easy to communicate
Easy to arrange an appointment
Mudah memahami tentang Hearing aid
Tempat yang selesa dan bersih
Memberi penerangan yang jelas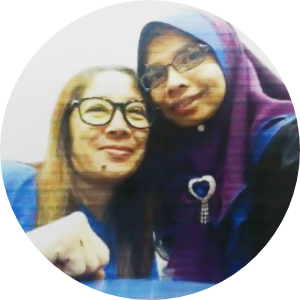 Grace Bacus
KL Branch
Wearing hearing aid is very useful for us who having a problem in hearing and Puan Atikah, the lady examined me, she's very nice and she's good in explaining to you what's better for your hearing type. She's good in details. Thanks for the hearing aid solution and to Puan Atikah.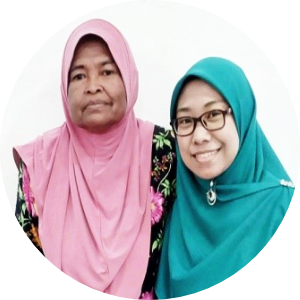 Noriah Binti Baharom
Alor Setar Branch
Memakai alat pendengaran ini sangat sangat memuaskan.
Sudah 10 tahun memakai dan layanan para staf di sini sangat memuaskan.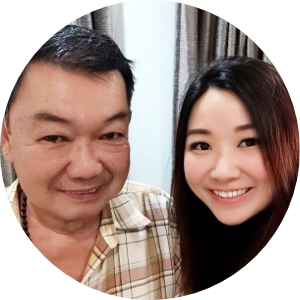 Law Cheng Fah
JB Branch
3 个月前,我的听觉越来越差,影响我的工作。没办法与人沟通,聊天。 在朋友的介绍下,我来这里买耳机。 戴了耳机之后,很清楚。我现在可以和朋友聊天了。谢谢你们。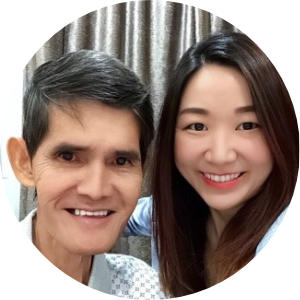 Lew Kim Siang
JB Branch
在没戴耳机之前,朋友、家人跟我谈话我都听不到,所以我很少跟他们讲话。
这间公司的服务很好,详细的讲解。 戴了耳机之后,与众不同,听觉没问题,现在不再害怕跟朋友、家人谈天。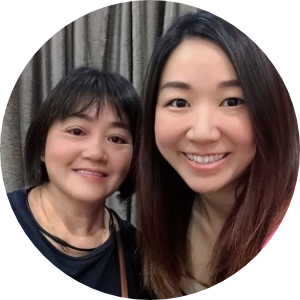 Tai Siew Moi
JB Branch
在没戴耳机的时候, 每当朋友和我聊天的时候,听不清他们说什么,让我感到很自卑。 现在戴了耳机,让我听到了,而且这里的服务也佷好。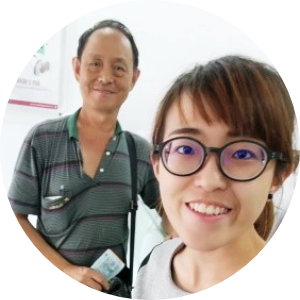 Tan Soon Hee
JB Branch
我很满意,服务很好,谢谢!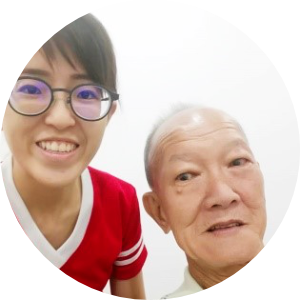 Lee Kim Bok
JB Branch
我很满意你们都服务,你们很用心听我们诉说,谢谢。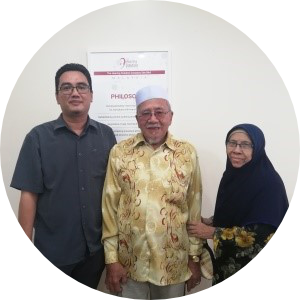 Abd Rani Md Ali
Kuantan Branch
Berpuashati dengan layanan yang diberikan. Sentiasa prihatin dengan masalah pelanggan dan berusaha menyelesaikan dengan sebaik-baiknya.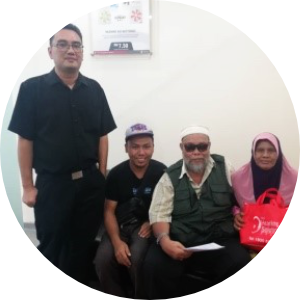 Che Jamilah Ismail
Kuantan Branch
Servis dan layanan terbaik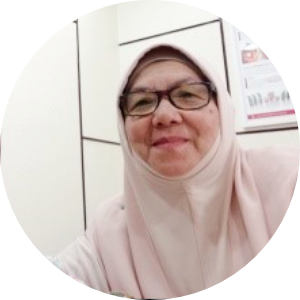 Noraini Md Salleh
Kuantan Branch
Terima Kasih. Saya dapat penjelasan yang memuaskan berkenaan alat bantu dengar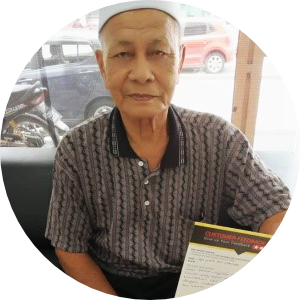 Mat Jusoh Che Gah
Kota Bharu Branch
Service terbaik, layanan yang baik, mesra customer, suasana yang selesa dan disediakan kemudahan kepada customer.
Peramah dengan customer, pekerja yang baik dan mesra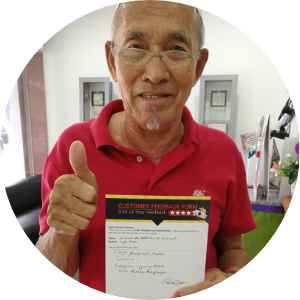 Awang @Rahim bin Musa
Kota Bharu Branch
Saya berpuas hati. Good. Layanan yang baik dan terus berjaya.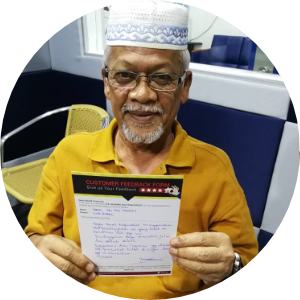 Sabidi bin Abd Rahman
Kota Bharu Branch
Saya amat berpuas hati menggunakan alat pendengaran ini yang telah dibekallan oleh syarikat ini. Pendengaran saya semakin jelas dan selesa sekali.
Kerjasama dan layanan yang diberikan oleh pembekal tidak diragui dan sangat memuaskan. Terima kasih.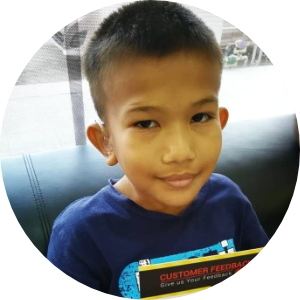 M. Harizul Akram
Kota Bharu Branch
Saya bagi pihak anak saya amat berpuas hati setelah anak saya memakai alat ini lebih mudah saya bercakap dengan anak saya.
Saya mengucapkan terima kasih kerana memberi layanan terbaik semasa berurusan dengan syarikat ini.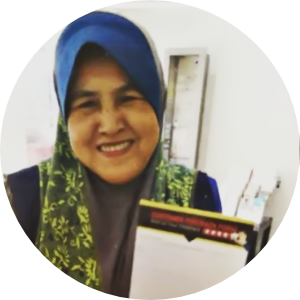 Rafeah bt Che Soh
Kota Bharu Branch
Saya suka pakai alat ini dan selesa memakainya. Terima kasih.
Parimalla A/P Rajaratnam
Ipoh Branch
Very well explained and satisfied totally on the hearing test and aid. TQ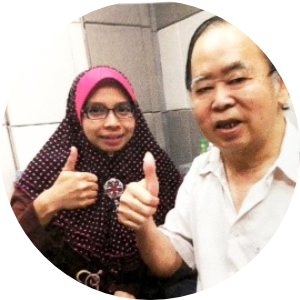 Sam Yet Lau
KL Branch
Puan Atikah is very patience in explaining the procedure of selecting the best solution to my hearing issue.
She's also very detail and patience when testing the hearing aid.
Thanks for her kind, clear & attentive to solve my hearing problem.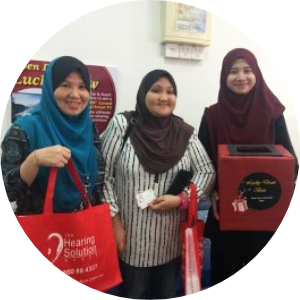 Wan Zalikha Binti Wan Ali
Kuala Terengganu Branch
Provide enough consultancy session for customer
Enough time to try new hearing solution technology/tools.
Keep up good job!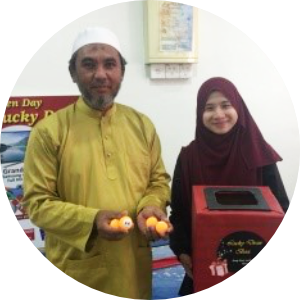 Harun Bin Md Hassan
Kuala Terengganu Branch
Terima kasih Hearing Solution kerana membantu kami menjadikan hidup ceria semuala.
Tingkatkan perkhidmatan anda ke tahap yang terbaik untuk pelanggan.
Semoga Hearing Solution berada dilandasan yang terbaik.
Terima kasih.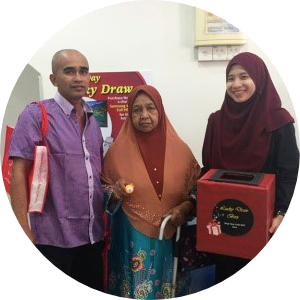 C.W. Zamri binti C.W. Fadri
Kuala Terengganu Branch
Layanan yang terbaik. Moga diteruskan pada hari yang mendatang.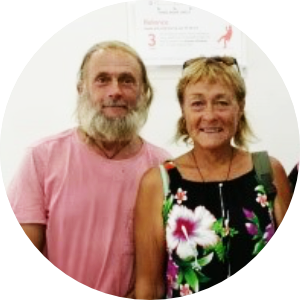 Jim Sublett
Kuala Terengganu Branch
Wonderful service. Quickly and efficiently welcomed by the staff and we were seen immediately. Extremely friendly, informative and genuine care.
Looking forward to our next appointment.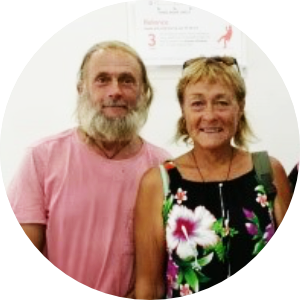 Wendie Raffenty
Kuala Terengganu Branch
A very good service. Nice presented and friendly. Would recommend to anyone to come and have a service done. Looking forward to our next visit.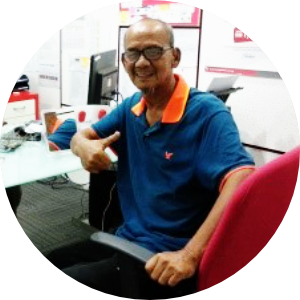 Muhammad Bin Bebakar
Kuala Terengganu Branch
Alat bantu pendengaran ini sebagai dan memberi kebaikan pada diri saya.
Saya berterima kasih diatas bantuan ke atas saya. Layanan yang sangat baik dan mesra.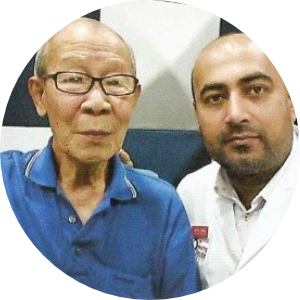 Tang Jee Phang @ Tang Chee Fong
Ipoh Branch
Good service, Very clearly and very patient explained to the old people, overall we like the service.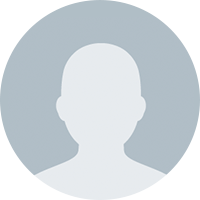 Siti Maryam Binti Zainol (Pn Haton Bt Abdullah)
Alor Setar Branch
Terima kasih diucapkan kepada The Hearing Solution Group yang telah membantu ibu saya di dalam masalah pendengaran.
Setelah hampir 15 tahun tidak dapat mendengar dengan jelas dan menghadapi rasa kurang yakin bila berkomunikasi. Alhamdulillah ibu saya rasa hidupnya kembali 'life'/ hidup selepas memakai alat dengar dari Hearing Solution Group. Beliau sangat gembira dan bertambah rakan-rakan kerana telah selesa dan boleh berkomunikasi tanpa ragu-ragu.
Terima kasih The Hearing Solution Group.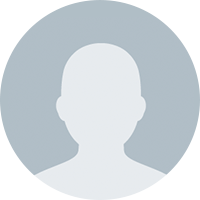 Paridah Mohd Salleh
Alor Setar Branch
Rawatan untuk pendengaran di Hearing Solution sejak tahun 2014.
Sering berhubung dahulu sebelum ke klinik dan sentiasa mendapat layanan mesra daripada doktor.
Mendapat khidmat nasihat untuk memilih alat pendengaran dengar tahap pendengaran.
Kami berpuas hati atas khidmat yang diberi.
Terima kasih doktor yang merawat ayahanda saya.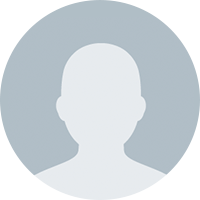 K. Danaraj
Ipoh Branch
I am a customer of your company since 13.06.2013. I have been getting very good service from the staff in Ipoh Branch. They are very helpful and friendly.
The company speech day delivered by Mr Manfred was good where I manage to get a lot of information about ear and hearing aids. I am very satisfied with the services provided by The Hearing Solution Group.